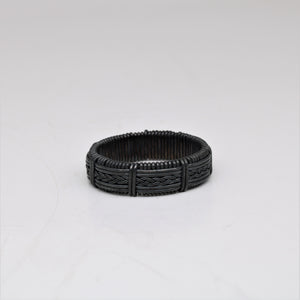 The classic braided Infinity band designed by MNDFLMTLS now in stunning black!
This ring is so comfortable and versatile it has been worn by men and women and very popular as wedding bands.
These are made to order, please allow 5-7 days for creation of product before shipping
Details:
Width: approx 1/4 inch
Materials: Sterling Silver wire
Oxidization is a process used by jewelers to darken or "antique" the appearance of silver. Without polishing it leaves the piece with a beautiful matte black finish, as shown in the photo. A light polish may be requested to give it a gunmetal shine. 
*Please avoid using harsh chemicals or high ethanol content hand sanitizers while wearing oxidized rings as this may change the appearance